the MINE project
Welcome to the latest and greatest art project I have completed to date. It is a bit out there so bear with me here as I attempt to describe it as simply as possible.
What is it?
In the summer of 2007 I got a job as a prospector. In short a prospector is a person who is engaged in the act of looking for gold or other valuable minerals. The job I had was easy. I just had to assist the guy who knew about rocks. I carried the heavy things, and smashed rocks with a hammer, while the prospector wrote down notes. If we found something interesting enough, we would then stake a claim on the site. A claim is staked by blazing a square border around the area you would like to claim and cutting posts for the four corners of the claim. A tag with a number is affixed to the post and its location is documented. The minimum size for a claim in Ontario is 400m by 400m, which is roughly a quarter mile square. There are specific instructions on how this is done available online. It is kind of a dull read though.
From the summer of 2007 on to the rest of 2008 I have had variety of jobs in the exploration field of mining. It was over the course of these jobs that the idea for the MINE project was born. There were a couple of triggers for it. One was the very first jobs I had in the field. I was sent out to an old mine which had been closed since the 1920's. for most of the 21 century the site was a ghost town. Unfortunately The torn the town down in the 90's so I did not get to see that part of it. What did remain was pretty wierd. There were random bits of rotten wooden pipes an old ore car and an expansive wasteland.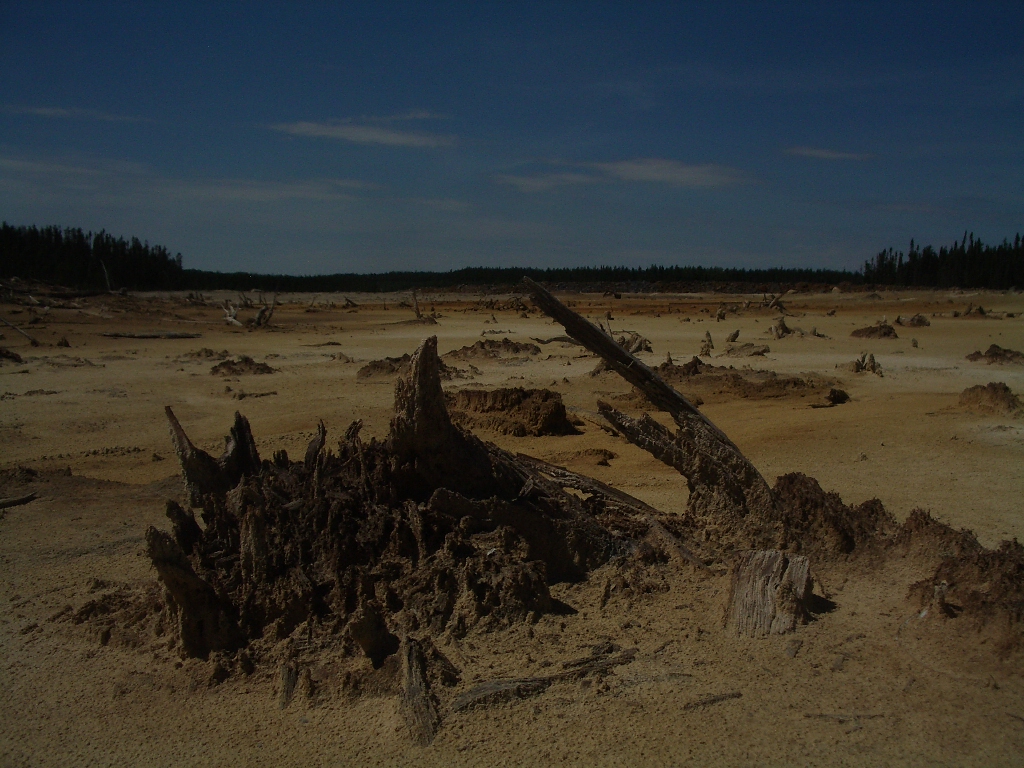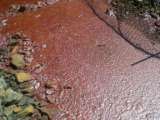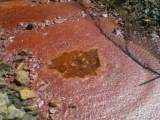 The second photo is after i threw the rock in.
The location of this abandoned mine can be found by typing Favourable lake into a google map search. It was an eerie place to visit. It had an odd effect on me being in such a remote place and seeing such site and it spawned further interest in the act of mining. Following this trip I got more jobs staking and prospecting claims in North Ontario. I spent a month in a trailer on a bush road north of Kenora staking and looking for Uranium. Despite what it may sound like the job was quite enjoyable. Most of the claims were along the English river and were only accessible by boat or air. Most of the time I was walking through remote forest by myself during the best time of year-- Late summer. It may have been a moment of bush madness when I thought about staking claims in such a way as to spell a word. Or perhaps it was the most rational moment of my life. That will come out in the memiors I am sure. Whatever it was, it was an idea. A new idea. Something that was so ridiculous that it had to be done. It didn't take long to decide on a what word to spell. It was simple really a matter of logic. MINE. A four letter word with multiple uses. The perfect word really.
Through out the following year I had a variety of other jobs. I spent most of the winter of 2008 in Northern Saskatchewan working in a Uranium exploration camp. Uranium as all metals were up there in the stock markets, hence all the jobs available at the time. My job in Saskabush was not very glamorous. I was the camp attendant. I was in charge of keeping the camp organized and functional. I filled things with diesel other things with gas, cleaned the shower, pumped the water (which is remarkably hard to do at -50), and dug new shitter holes when the old ones got full. It wasn't a hard job, and I do relish a good day of labour. It gives me time to think. It was during this period where the plan to sell shares in the mine was thought up. Afterall if it is going to be a MINE there might as well be some shares for sale. That and the irony of a MINE share is just to good. During the summer of 2008 I took a month off to do some volunteer work for a friend of mine at his non-profit organization in Vancouver. During that time I managed to convince my brother to come out to ontario to help me preform this monumental under-taking. We set a the date for the end of October. Which can be some of the best and worst weather for working in the bush.
On October, 28, 2008, the day before my birthday, staking was commenced on the MINE project. We stayed at a camp just out side of Upsala Ontario. The accomodations were great. Old cabins that had heat and flush toilets, bush luxury to say the least. The claims "to be staked" were only 7 kilometres away from camp. When we had vehicle trouble it was possible to walk home. Ideal staking conditions. 2 weeks to the day we finished staking the claims. We had all types of weather. there was snow on the first day. It got hot and sunny for a week. Then cold cold rainy nasty. Finally wet snow for the last 3 days. Some moments were absolutely wretched. The last day we walked for a half mile through knee deep 5 degree water. But it was and still is worth it.
Because its a MINE
the following picture is a copy of the drawing that was used to file the claims. Props go out to Mr. X on this one. it was his autocad skills at work here.

This second image is how it appears on the Ministry of Northern Development and Mines CLAIMap system.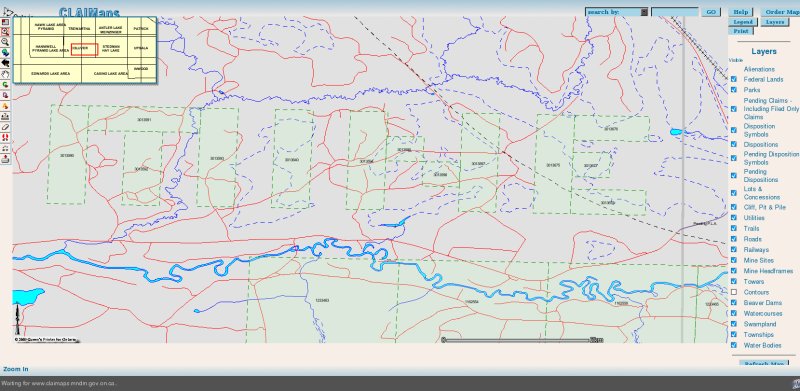 In total the MINE is 592 hectares of mineral rights. I do not own the surface rights to the land. This is a MINE in letter only. It cost 2 weeks of labour and $460 to purchase the rights. Pretty cheap if you think about how large of an area it is. The dimensions of the "M" are 1 mile by 1 and 1/4 miles. The whole word is 4 miles wide. Currently I am selling one hectare parcels for $5. Note that these shares will never produce dividend. They are not intended to. This is a once in a lifetime offer. How often do you get to buy a hectare of mineral rights for $5? I do not intend to get rich from this scheme. All the money I have collected is going to be invested in mine reclaimation. So far I have found a student bursiary which provides grants to students interested in remediation and reclamation studies. However at this point I am looking for other opportunities as well.
When is the MINE project?
The MINE project will be active and selling shares for the year of 2009. At the end of the year shareholders will be asked to participate in a vote as to what where the money is going. By the end of November 2010 the claims will expire. The reclamation of this MINE is expected to be a dissolving back to nature. Metal tags will be removed pending permission of the MNDM. Some scars may remain as long as 10 years. But it is doubtful that the effects of this mine will ever be seen from space.
If you are interested in persuing the purchase of a share in this MINE please refer to the following links:
http://puddle.ca/~lba/MINE/
http://puddle.ca/~lba/MINE/sales.html