he adventure continues with module 12 - aquaculture!!!
another really exciting 2-day session, again just delvin and i
this time we were learning all about sustainable water technology
and all manner of ponds, fish farming, swimming pools, streams,
water mills, water pumps, water EVERYTHING!!!
(especially fish farming)
as usual, we started our class with a long walk / talk
reminiscing about the last class and discussing the readings :
it was a really really snowy day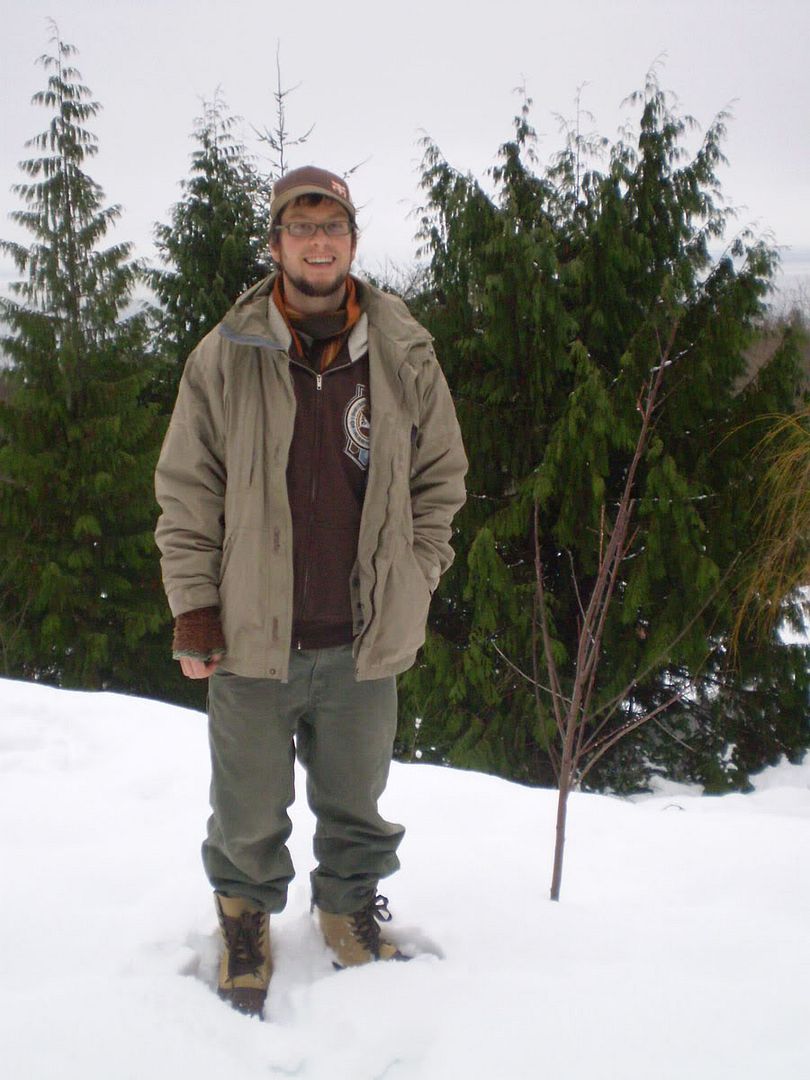 because the readings got a LOT into ponds
and all the mazillion kinds of ponds you may choose to have
and various factors like PH, oxygen levels, square meters size, depth, etc.
that might be taken into consideration
when deciding where to place the pond in relationship to other water bodies
what plants to plant in and around it
and what fish or crustations to raise in it
we decided to visit all three ponds on our property
this is the main pond, the only one large enough to have fish in really :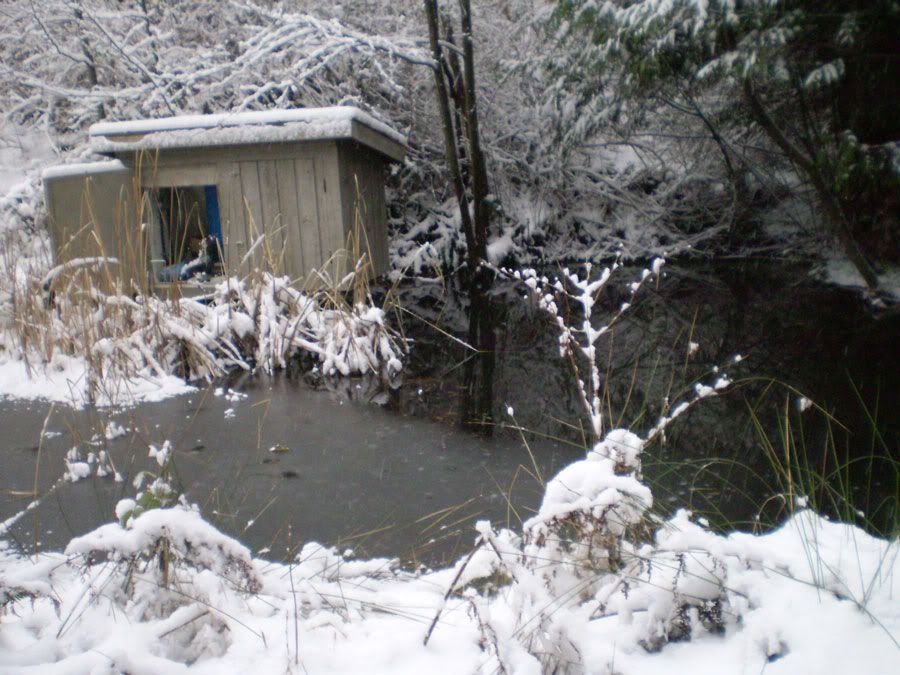 here is the same pond from another angle
that little cabin you see in the above image is a pump house
with a pumper that pumps water from this pond uphill through the property
to various places where you can access the water...
in this shot, the pump house is so far to the left that you can't see it
we are looking at the pond from the left side :
after analyzing that pond based on all the various factors in the readings
and after some very studious discussion
we threw some snow balls
and delvin helped me make a snow angel
after all that outdoor time, we warmed up in my room
where we set up shop to hang out for most of the rest of the class :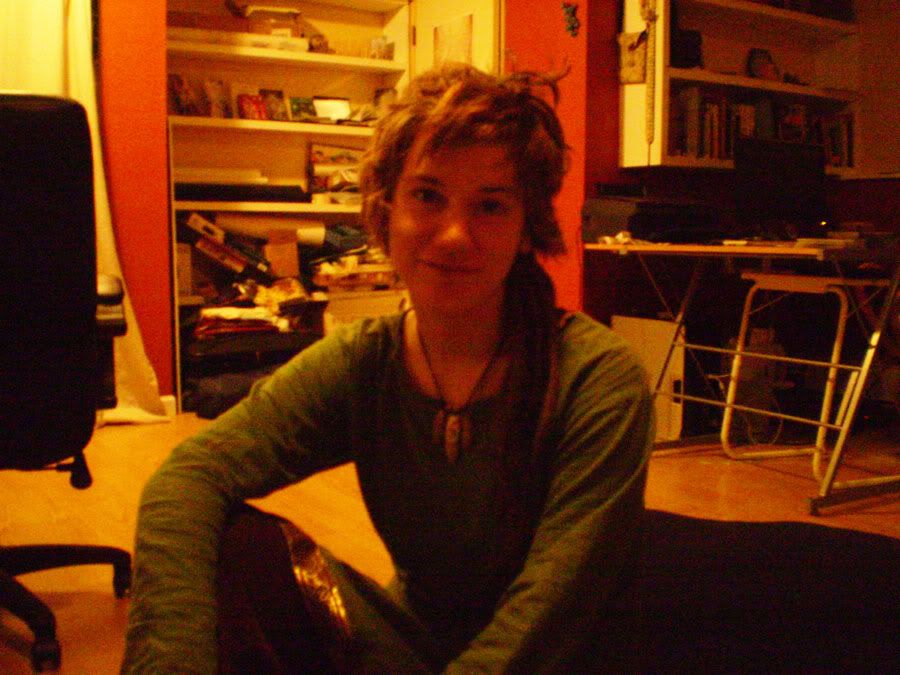 we continued the multidimensional learning process
of sinking in the info from the readings in different learning styles
by creating, as we did last week, a fictional property map
which illustrated and put into practice a summary of info from the readings :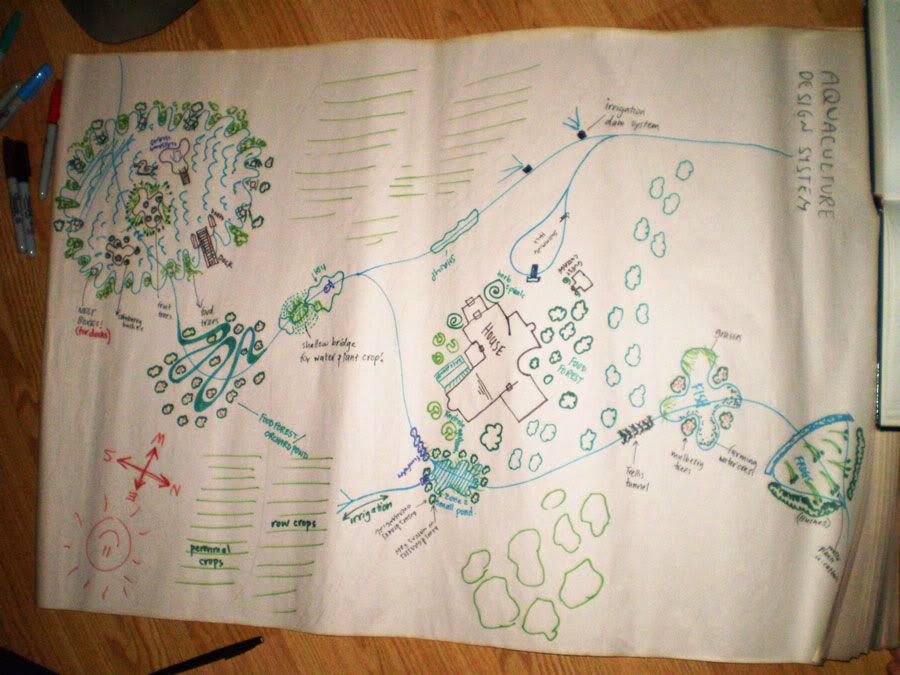 a couple of days before class
i started getting really excited that i was going to be making
this 64 card deck of what we call "tokens"
these are the permaculture design elements
that can be used on a dimensional map we create, or just on a surface
with or without the companion permaculture principles card deck
which we have now finished
in order to help conceptualize the design of a property
just help learn permaculture
or as a game
Here is a picture from a previous permaculture class,
of us using the prototype, small "chit" or now called "token" set :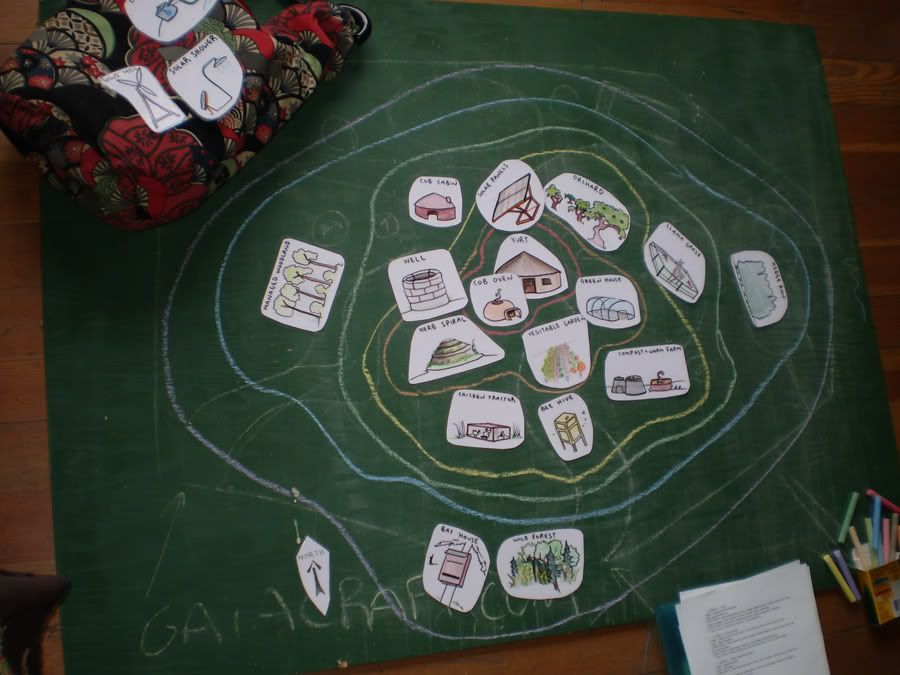 so, to prepare myself, I got a cool new tool so that I can do a good job
with this new style of illustration that I'm trying
my VERY FIRST TABLET!!!
(this thing lets me control my computer mouse with a pen, for digital drawing)
I took a risk and got a super cheap kind... that's the model there
so far it seems to be working out really well for me
here's a picture of me at my upgraded workspace in my room :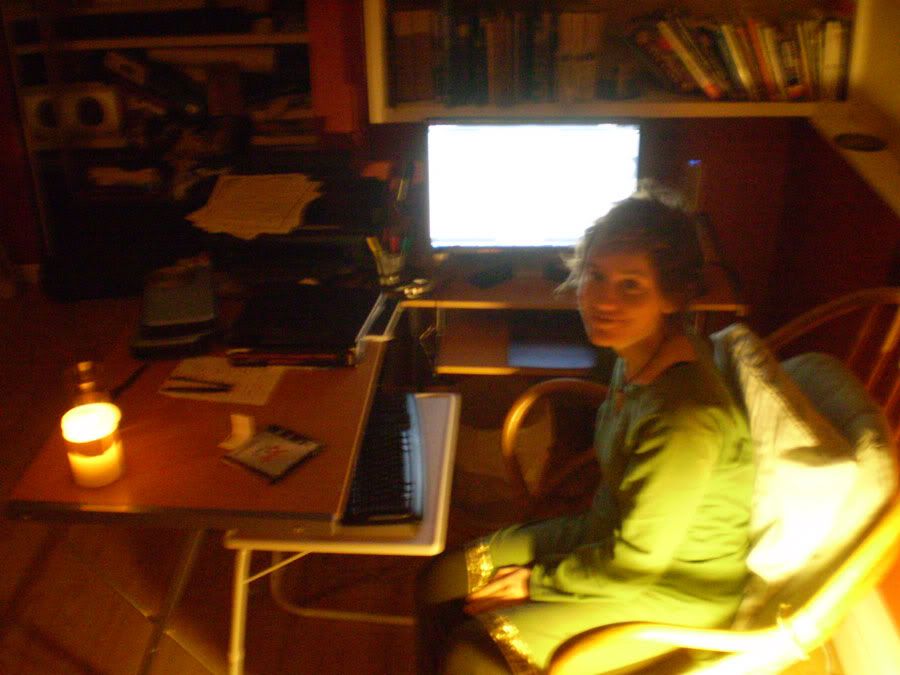 Here is an example of how one of the chits would look as a drawing in my sketch book at first :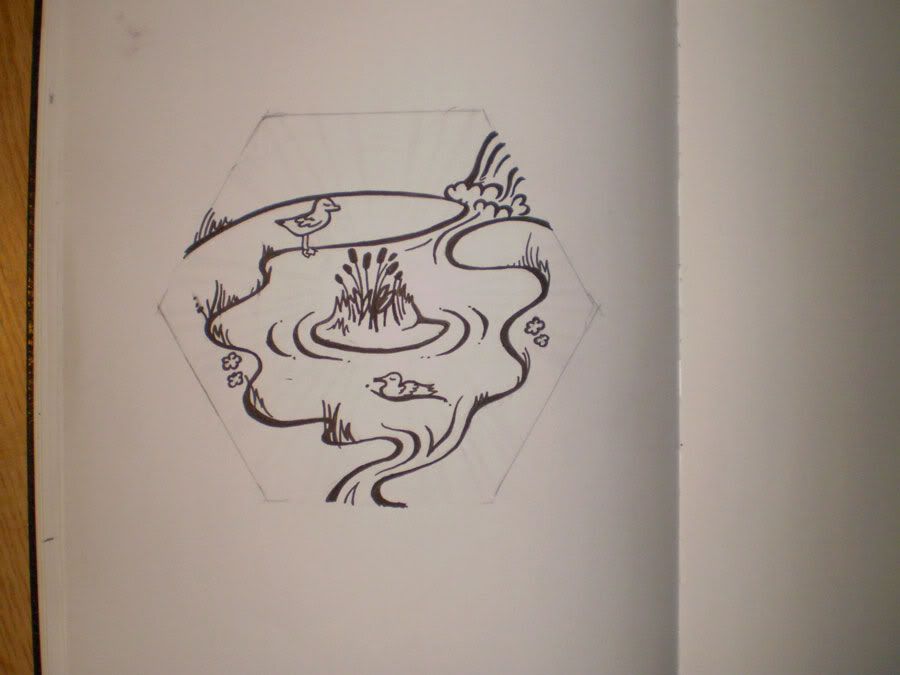 and here's what that same drawing looks like
once I've taken it into the computer and painted it :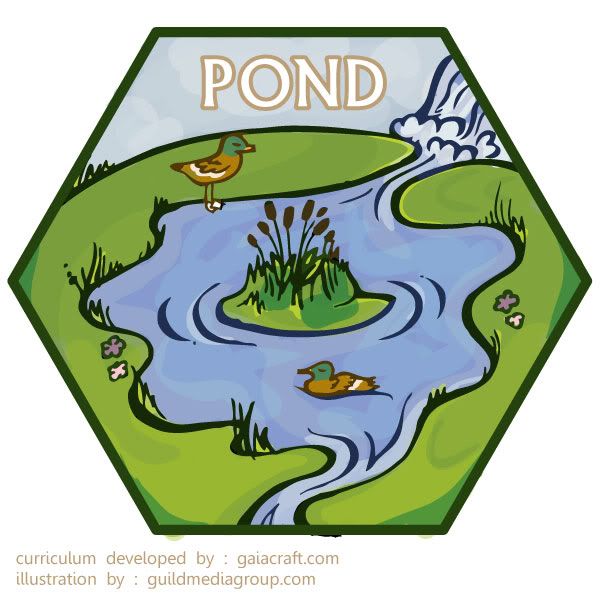 Throughout the course of the two days and evenings
that we dedicated to this module
I was able to completely finish a bunch
(though I will surely go back and do some upgrades to them all later)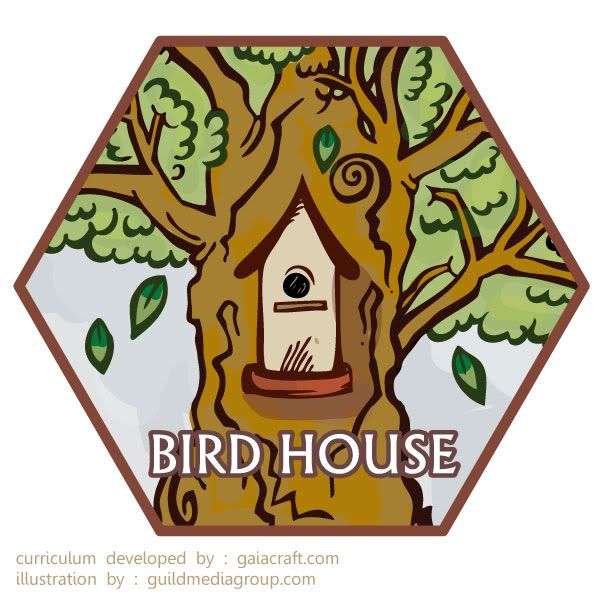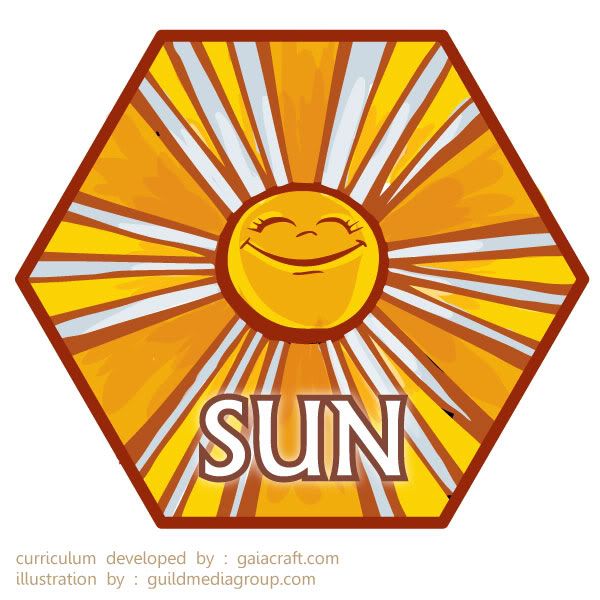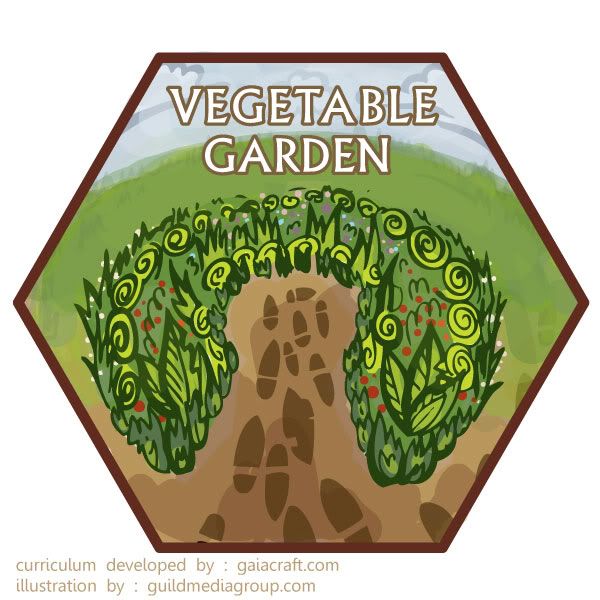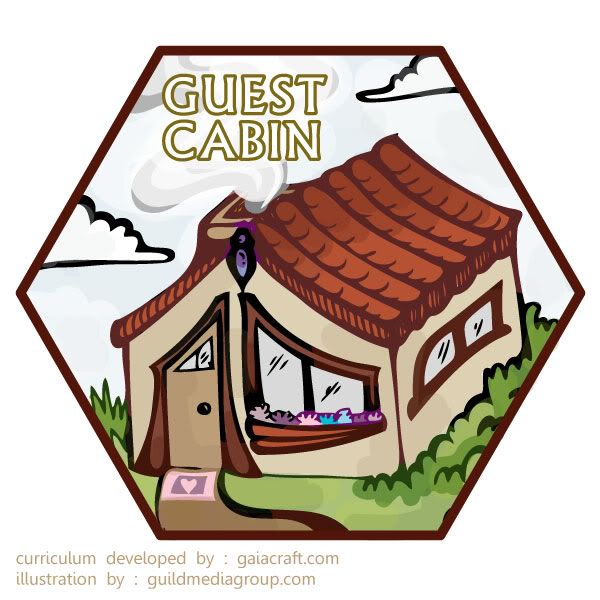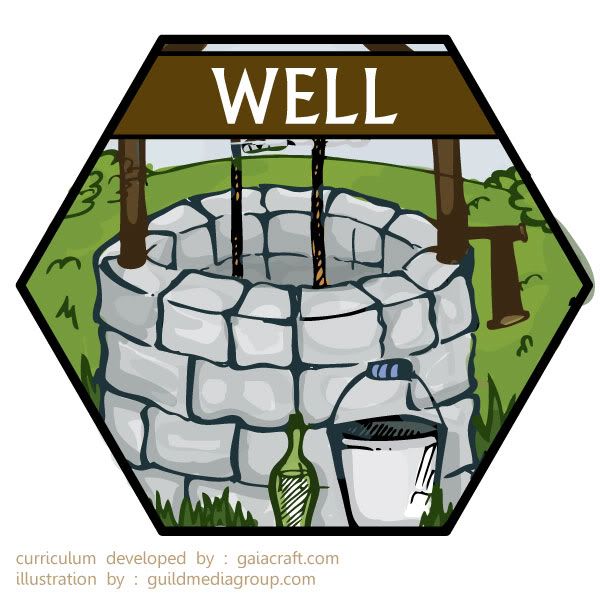 This was an extremely fun time... especially the tokens
Here are my written questions from our module :
1. What are the functions of having an aquaculture system on your property?

There are about a bazillion functions : It's a habitat for fish and quatic life that can be farmed and eaten, as well as aquatic plants and birds such as ducks. As well as a meat and edible plant source, it provides habitat for friendly frogs. It creates all kinds of edges, upping biodiversity and productivity. You can swim in the pond, or set up your office in there to keep yourself cool, because ponds are wonderful at creating microclimates and moderating temperature. Aside from that they can be used for irrigation of large areas, and when you intersperse them with your various gardens or food forests, they can enrich the area with water through the soil and the moist air around them. Imagine drinking a nice fresh drink of water in a beautiful haded food forest with the relaxing sound of a babbling stream / pond system right nearby.

2. What are some of things you could produce with aquaculture in your
local bioregion (ie. specific plants and animals)?

pond lily, iris flowers, marsh cinquefoil, cranberry bushes, water chesnuts, water cress, some various grasses, cod, trout, froggies, almonds, basically any coldwater fish.

3. Describe a small scale aquaculture system?

Imagine taking ten square meters of area and shaping that into a snake-like back and forth curved shape, digging, lining and filling that area with 2 meters deep of water, and putting some pregnant fish in there, while planting a host of water loving food plants like cranberries, water chesnuts and water cress around the edge. In the long thin areas between the twisty turns of the snake-like pond, plant food forest guild / orchard style bunch of trees and other perennials, which can benefit from the wet soil and prevent erosion roblems over time. Leave the occational little fairy spot to sit and have tea, or go fishing for your dinner. The ends of this sweet pond could connect somehow to a nearby stream or flowform, allowing it to stay oxygenated. The babbling water sounds would be relaxing and welcome somewhere perhaps at the edge of zone 1 and 2.