"The elements were bestowed on us by the stars, the complex compounds given to us by the young Earth, the informed sequences of the genes by the microorganisms, our limbs and organs by advanced life forms, and the linguistic symbols carrying our thoughts and feelings by the human venture. We could not see without the work of those who shaped the eye; Could not hear without the work of those who shaped the ear. The universe created these gifts, lavishing them upon us; Our first and deepest response is infinite gratitude."

- Brian Swimme, PhD
Recently I was blessed to participate in a wonderful 2-day, 10-hour permaculture course with permaculture masters student, Delvin Solkinson, and a wonderful team of 13 students. We met at a place called the Heart of the Creek, in Roberts Creek, BC... a business district area where Delvin stewards 33 permaculture demonstration gardens that make up the world famous Heart Gardens. The spot is also home to a small eco-education centre full of free media and information, as well as several businesses including a restaurant / cafe and health food store among others.

Our teacher Delvin is a wonderfully skilled and experienced permaculture teacher and student, and was doing this class with us as part of his curriculum for his masters thesis in permaculture design. He is already my teacher for the full 140 hour permaculture design certification course, which we will be crafting together into an online course, which we will have translated into many languages and make available to the world, seeking sanction also from the permaculture institute.

The course was very informative and fun, and I found Delvin's teaching style to be extremely inspiring, touching many different learning styles in an integrated and well thought-out stream of activities, games, props and drops from some of the original founders and innovative new pioneers of this essential environmental and cultural science and art.
A lot of preparation went into it... here's Karen lighting the final touch - an organic beeswax prayer candle to bless our day of learning :
One of the businesses on the property is a crystal and gem shop called Elfinstones, and we were lucky enough to be able to do our Earth education among some very inspiring pieces of earth, directly in the gem shop while it was closed.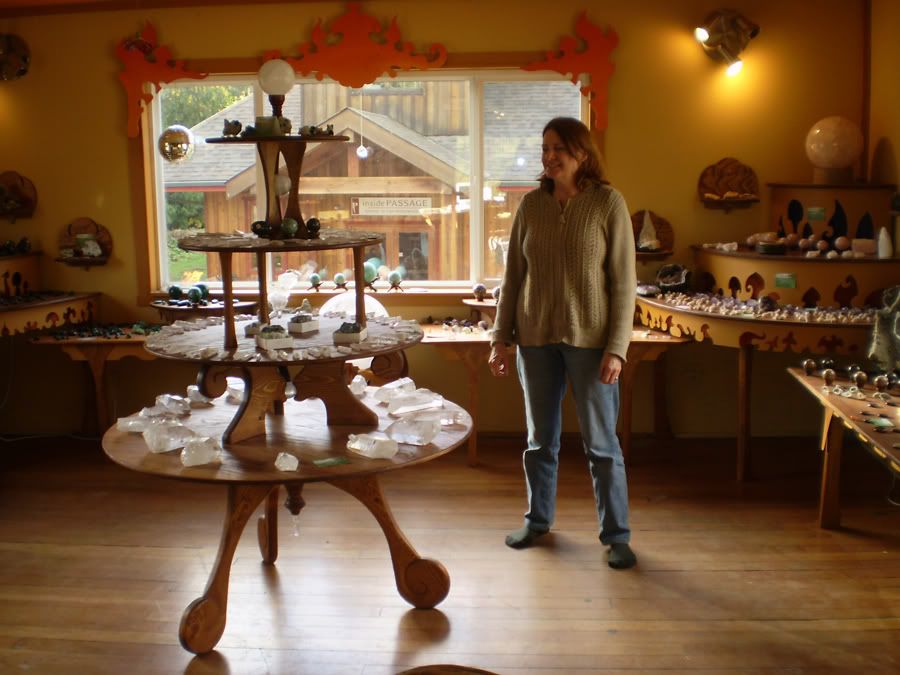 Delvin had a nice selection of permaculture literature out for us to peruse and write the names down for further investigation, and he gave us a little drop about most of these.
We used the famous "crystal of clarity" to pass around the circle like a talking stick, while everyone gave a little drop about their background and what they were here to learn.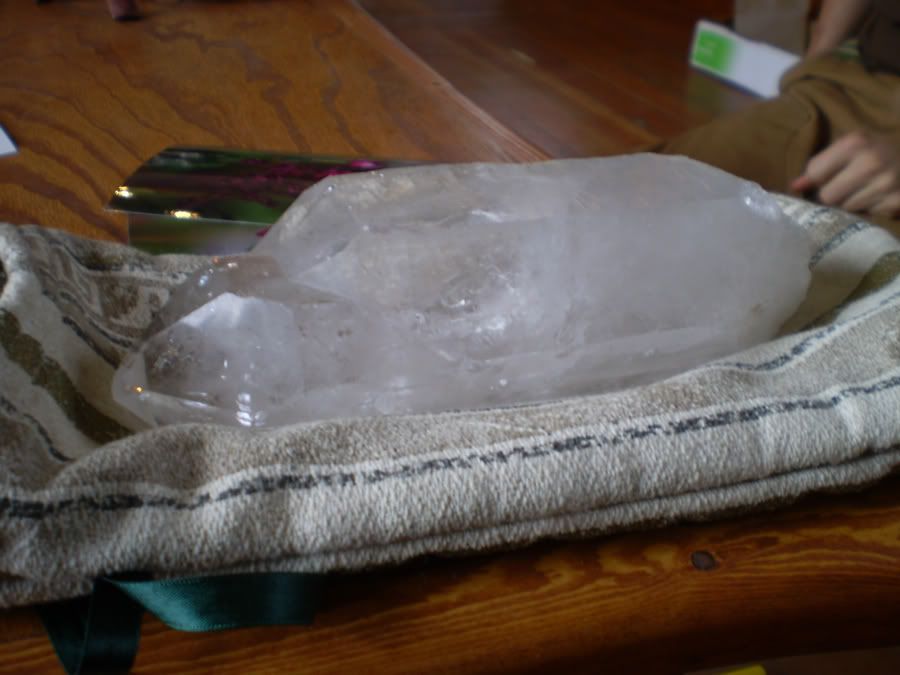 Everyone's drop was really interesting, and it turned out we were a really super group, full of ecology students, earth stewards and teachers, and even engineers... many of us had intentions not only to bring this information into the garden right away, but also into our lives.
The class was dynamic and full of walking around and various activities. One of them was a cameo appearance from food security and permaculture gardening expert Dave from the gumboot garden cafe next door. He showed us how he grows most of the greens for his busy restaurant right on the property using no chemical fertilizers.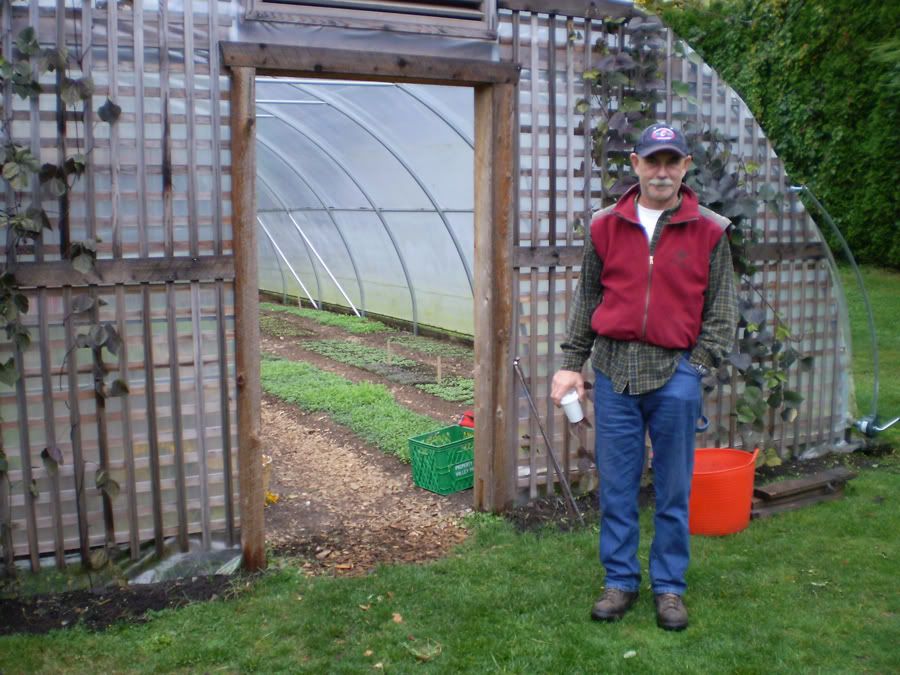 He was really a treat to learn from :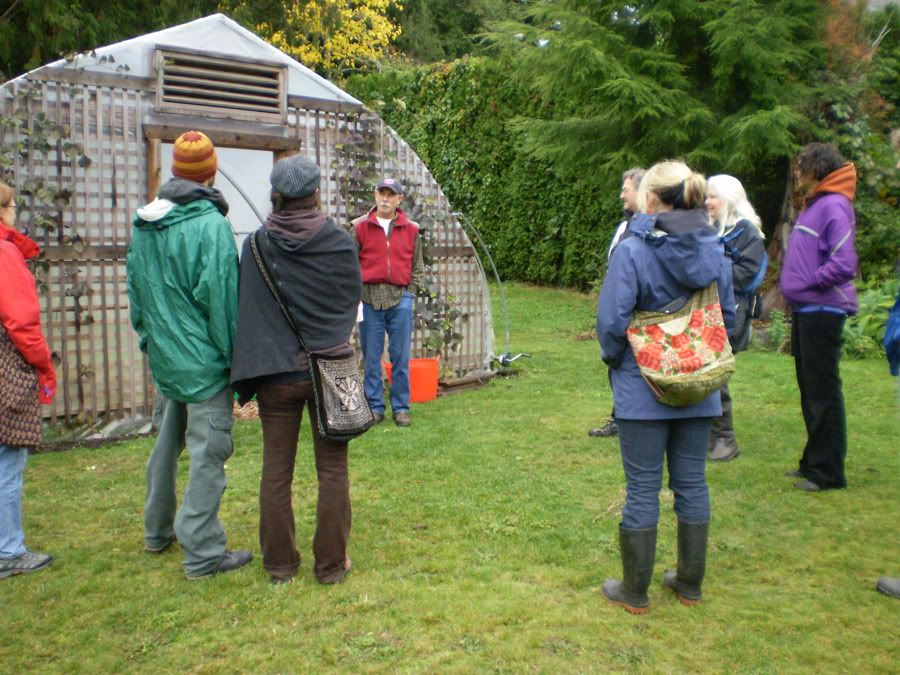 The greenhouse above is one part of his setup... and here you can also see he has some plots that he is working on the ground :
Dave showed us also his really cool clean compost system, which he uses to keep all his many daily pounds of salad greens happy and healthy with no pesticides or fertilizers.
We had an inspiring tour of the Heart Gardens, where we used the heart gardens map, featured on the website at www.heartgardens.com to self-guide through these beautiful gardens and learn all about the plants that are there.
It was especially fun having a lenthy compost, hugelkultur and vermicultur lesson in a very special zone of the heart gardens, where all three of those demonstrations reside. Here is a comfrey plant that happily lives on the hugelkultur bed to help break down serious compost like wood and brambles, and which also lvies right next to the compost to pick up any residual nurtrients that may seep out of it.
It was so inspiring to see all the gardens working together, with guilds within guilds... all levels of harmonious simbiotic relationship groups, like the following garden "ancient memorial" which is actually a stump which is hosting a bunch of new little plants, with it's amazing woody ability to store water (never needing to be watered).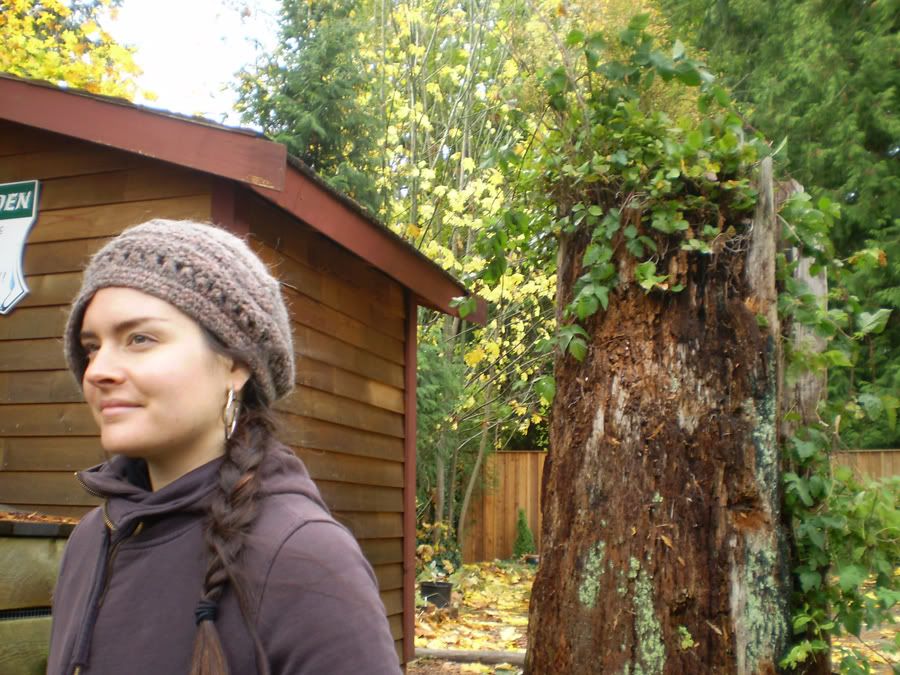 the next day we had fun learning about advanced permaculture mapping, using "zones" and "sectors" with a cool set of permaculture tools :
First we learned about zones... areas with varying frequency of use that can help us design where to place elements on our property, which we tend to use a corresponding amount.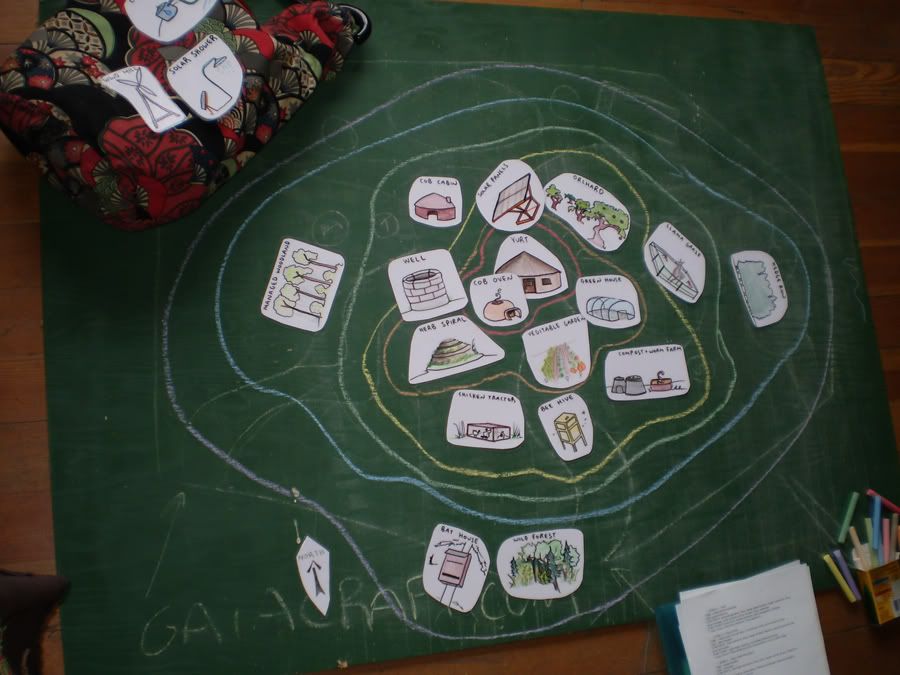 Then we learned about sectors, which are set up like a pie chart almost... showing where different temperatures of wind come into the landscape, as well as sun, noise, people walking, deer, fire hazard areas... etc. Mapping this out also really helps us design where to place things.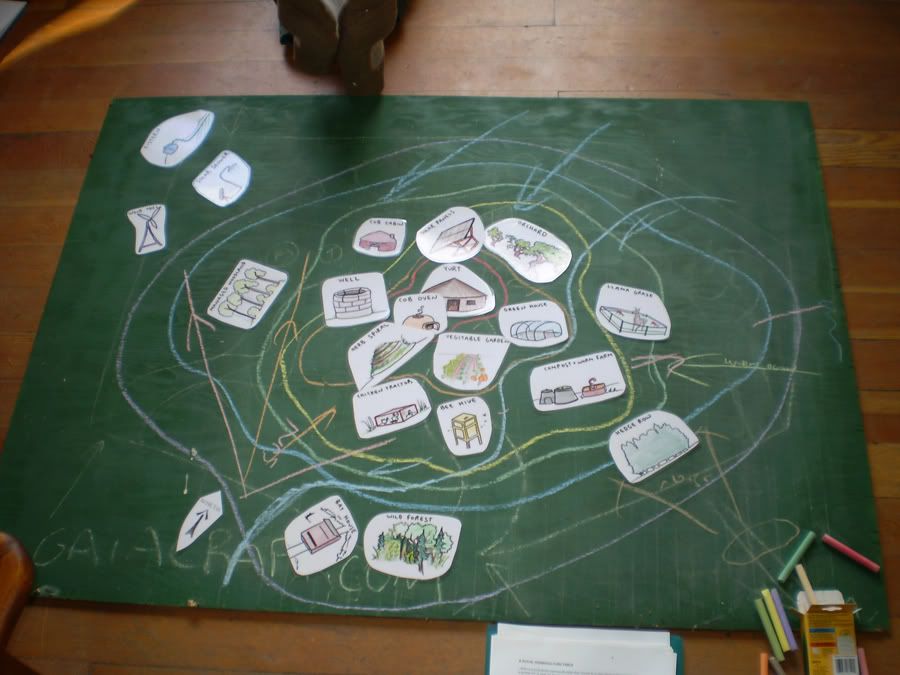 I forgot to take a picture of them but we also had a really cool deck of permaculture principles. Each one was short and digestible, and we went through many of them and thought in each case about how we could apply each principle to our theoretical design of this property.
This was a wonderful class filled with much more than I could document here. I learned so much about how to teach and learn, and found it truly inspiring to revisit all these concepts in relationship to the amazing people, the inspiring place, and our wonderful teacher.
gratitude
Lunaya Shekinah
www.lightscience.ca